Sunday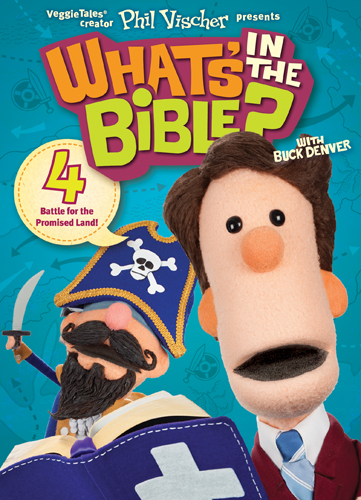 Happy Halloween (unless you don't celebrate Halloween, then, Happy October 31st!).
I recently received a copy of "What's In the Bible?" from Tyndale House Publishers to watch with my kids and review. "What's In the Bible?" is a kid's video series about, believe it or not, what is in the Bible. Phil Vischer, the creator of Veggie Tales, is also the creator of this series. We watched the 4th DVD in the series called "Battle for the Promised Land." Read my review below and leave a comment and you could win a free copy of the DVD we watched from Tyndale House.
I turned out that we had two kids visiting with us when we watched the video so I was actually able to get the reaction from 5 kids whose ages ranged from 4 up to 11. Everybody seemed to enjoy the video and it was definitely informative. I think what I appreciated most was that they weren't afraid to tackle some pretty tricky questions and issues. In the DVD we watched, we learned about the Israelites entering the Promised Land where they had to fight and kill the nations who were already living there. The characters in the video asked why it was ok for the Israelites to fight and kill the people already living there just so they could live there. Not many kid oriented videos would attempt to answer questions like this and, as a parent of a 4th grader, I appreciate there willingness to do so. (FYI, it was ok for the Israelites to fight and kill the inhabitants of Canaan because the land was God's to do with as He pleased and the Canaanites were disobeying God by not giving the land over to who He desired to have it.)
I asked the kids some questions after we watched the video:
1. Did you learn anything from it? They all said they did (and even I learned something new watching it).
2. Was it entertaining? While everyone seemed to enjoy it some, the older kids (9 and 11 years old) enjoyed it the most. My 9 year old daughter Emma was disappointed we didn't have all the videos to watch.
3. Would they watch the rest of the series? Again, a unanimous yes on this one.
4. Who was their favorite character? The runaway winner of this category was the pirate in the hot air balloon.
Overall, I was really impressed with what we saw. It is entertaining and extremely educational. I think you would do well to remember going into watching these that they are not Veggie Tales. They serve a different purpose (to teach kids what is in the bible) and serve it well. If you want your kids to know about the bible and enjoy the learning process, I highly recommend Phil Vischer's "What's In the Bible?" series.
To find out more about "What's In the Bible?", check out www.whatsinthebible.com or www.tyndale.com.
Thursday
Our small group started a study in the book of Hosea last night. (We just finished a marriage study so Hosea seemed like the next logical place.......right?) What I love about the book of Hosea is the picture of the gospel that is presented. It really is incredible to see how God has always been pointing His people to the coming of His Son. The story of Hosea is one of the most poignant and clear foretellings of the gospel that I know of in the Old Testament.
The basic story is as follows:
Hosea is a prophet of God to the nation of Israel. At this point in time the Israel has become two kingdoms. The south kingdom is called Judah and consists of two of the twelve tribes of Israel (Benjamin and Judah). The northern kingdom is called Israel and consists of the other ten tribes. From the time of the division, the northern kingdom is lead by its wicked kings into idolatry and dependence on foreign nations. It is to the northern kingdom that Hosea is called to prophesy. God does more than just call Hosea to prophesy to Israel, He asks Him to be a living example of God's relationship with His chosen people. God does this in, what to us certainly, seems a most unusual way.
He tells Hosea to marry a harlot, a prostitute. God wants Hosea's marriage to be a parable of His covenant with Israel and through the names of his children with Gomer, the harlot, God foretells His judgment on His adulterous people. Hosea obeys God's command, marries Gomer, and has three children named Jezreel, Lo-ruhama (No Mercy), and Lo-ammi (Not My People). Jezreel foretells God's destruction of Israel's ruling family, Lo-ruhama is the foretelling of God's withdrawal of His mercy from His people, and Lo-ammi is the foretelling of God disowning, for a time, His people. All this is due to their adultery of turning to idols and forsaking the God who chose them as His own. God is preparing to bring righteous judgment on His people, to the point of disowning them.
But then.....
14

"Therefore, behold, I will allure her,
and

e

bring her into the wilderness,
and

f

speak tenderly to her.
15

And there I will give her her vineyards
and make the Valley of Achor

5

a door of hope.
And there she shall answer

g

as in the days of her youth,
as at the time when she came out of the land of Egypt.
16

"And

h

in that day, declares the

Lord

, you will call me 'My Husband,' and no longer will you call me 'My Baal.'

17

For

i

I will remove the names of the Baals from her mouth, and they shall be remembered by name no more.

18

And

j

I will make for them a covenant on that day with the beasts of the field, the birds of the heavens, and the creeping things of the ground. And

k

I will abolish

6

the bow, the sword, and war from the land, and I will make you lie down in

l

safety.

19

And I will betroth you to me

m

forever.

n

I will betroth you to me in righteousness and in justice, in steadfast love and in mercy.

20

n

I will betroth you to me in faithfulness. And

o

you shall know the

Lord

.
21

"And

p

in that day

q

I will answer, declares the

Lord

,
I will answer the heavens,
and they shall answer the earth,
22

and the earth shall answer the grain, the wine, and the oil,
and they shall answer

r

Jezreel,

7
23

and

s

I will sow her for myself in the land.
And

t

I

u

will have mercy on No Mercy,

8
and

v

I will say to Not My People,

9

w

'You are my people';
and he shall say, 'You are my God.'
Hosea 2:14-23
God tells Hosea that He will not forsake His people forever, that there will come a day when He will gather Israel back up and reestablish an everlasting covenant with her. Those who were disowned and not His people will once again be called His people and those on whom He withheld mercy will once again experience His graciousness. We know from Paul's quotation of this passage in Romans that this promise also applies to us whom God has saved and called out of our sin to salvation. We were once his enemies, not his people, and now we are vessels of His mercy and we are His people forever more.
There is one word in this passage I want to look at for a moment. It is the word that starts the passage from Hosea quoted above.
The word is
therefore
.
The word is therefore is used to connect what was just happened to what is about to happen. For example, if I say, "I need some cash, therefore I am going to the ATM" I am indicating that the cause or reason for going to the ATM is that I am out of cash. The
therefore
tells you that what precedes it is the cause or reason for what follows it.
So, back to Hosea. God tells Hosea that He is going to allure His people to the desert and eventually restore Her. He is going to reestablish His covenant with Israel (and with those of us who are grafted onto Israel).
Why is he doing it? What precedes the
therefore
?
The laundry list of Israel's idolatry and spiritual adultery is what precedes the therefore. God is telling Israel that because they have forsaken Him, because they have chosen to give their worship to idols, He is going to allure them in the desert and call them back to Himself.
Here is how that makes sense both for Israel and for us today. God chose His people before the foundation of the earth. He chose us to be set apart for His glory and His renown. He
will
save His people, all of His people. So when we run from Him, when we create and worship idols, He
will
win us back. He gave His Son to make it a certainty that He would win us back. God's love for His people is ferocious and unstoppable. He has chosen us and He will save us. No scheme of the enemy or sin of our own doing can change the fact that God, for no reason other than His good pleasure, chose us as His holy people. Because His choice is due to His nature and His pleasure, we cannot escape Him. Our sin is so heinous and wicked that it took the death of the Son of God to make it possible for God to redeem us. That is how magnificent His love is for us.
So....
when we sin
when we run
when we worship idols
when we commit spiritual adultery...
therefore
He will allure us, He will pursue us, and He will save us because we are His.
Tuesday
The gospel is an incredibly beautiful thing. It can also be an incredibly confusing thing. This is because at its
heart is a paradox that we struggle to fully comprehend and, quite honestly, believe. A great many struggling Christians struggle precisely because embracing both sides of the gospel paradox is difficult (and impossible apart from Christ). We tend to really lean into and believe one side of the paradox while paying lip service to the other and this leads to a life that is incomplete. To live the Christ life, we must operate fully in both sides of the paradox.
What is this paradox? It is this: We are completely, totally, and utterly undeserving of the grace, mercy, and love of God and that God covers us completely with His grace, mercy, and love. To our finite minds, the truth of both of these statements is tough to reconcile. We want to think that if we are really undeserving, then God probably doesn't love us as completely as we have been told. Or, if God actually loves us like we have heard, then we must not be as undeserving as some say. The truth, of course is that both are true. We deserve nothing from God and yet He gives us everything in the person of Jesus and His death and resurrection. When we don't really believe the paradox is true, it leads us into a false view of ourselves in Christ which results in living our faith out in a way that God never intended.
If we really believe that we are undeserving of God's love and allow that to lead to a belief that His love and forgiveness are not all we have heard then we end up living a legalistic life. We desire God's love and forgiveness and we try to prove that we do deserve it by attempting to act righteously. So our live becomes a cycle of trying to please God with our deeds, falling into sin, running in fear from God to try to clean our selves up, and then starting the cycle over again. Eventually we wear ourselves out trying to become worthy of God's love. The truth is that we can never make ourselves worthy, only the blood of Christ can do that.
The other side of the coin is the believer who fully understands the covering of God's mercy and love but doesn't really grasp our unworthiness. This leads to a life of self-righteousness because we believe, on some level, that we have proven worthy of God's love. So those who are not believers obviously not as worthy as us and we look down on them.
The reality is that we are totally unworthy and that God redeems us completely anyway. We run to God when we fall because we understand that we are completely forgiven and loved through Christ. We welcome sinners because we realize that we were once just like them and only the blood of Christ makes us any different. We proclaim the good news that God saves unworthy sinners because He saved an unworthy me!
The gospel is a paradox. But it is the most beautiful, life giving, and glorious paradox there is.
I have been meeting with some other pastors in Rome for the past few weeks. We usually have some really good conversations about the gospel, our churches, and the work of the kingdom. We also pray for one another, our churches, and our city. Our desire as a group is that God would move powerfully in our city. We pray that God would send His Spirit and do mighty things in and through our churches that would impact Rome, Georgia for the glory of His name.
I have thoroughly enjoyed the fellowship, the unity of purpose, and the opportunity to dream with these other pastors. Hearing their prayers for our city has been really incredible and it is exciting to think of God using us or even allowing us to witness a mighty work in our city. It is really easy to find yourself thinking of the things God is doing in you personally and in the ministries He has allowed you to lead and imagine those things being used to begin a revival in your church or town. I hope and pray that He uses me, these other pastors, and our churches to begin a massive revival in Rome. I hope I get to witness the transformation of a city for the glory of my God.
But what if none of that happens?
What if I preach and teach and pray and no one responds?
The Old Testament prophet Isaiah was given some of the most well known and repeated messianic prophecies recorded in scripture. What is as noted was that by most modern standards of success, Isaiah was a complete failure.
Isaiah 6 is one of the most well know passages in the Old Testament, maybe the entire bible. In the first 7 verses we have Isaiah being shown a vision of the glory of God, realizing his own utter sinfulness, and being cleansed by God of that sin.
In the year that King Uzziah died I saw the Lord sitting upon a throne, high and lifted up; and the train of his robe filled the temple.

2

Above him stood the seraphim. Each had six wings: with two he covered his face, and with two he covered his feet, and with two he flew. And one called to another and said:
"Holy, holy, holy is the

Lord

of hosts;
the whole earth is full of his glory!"
4

And the foundations of the thresholds shook at the voice of him who called, and the house was filled with smoke.

5

And I said: "Woe is me!For I am lost; for I am a man of unclean lips, and I dwell in the midst of a people of unclean lips; for my eyes have seen the King, the

Lord

of hosts!"
6

Then one of the seraphim flew to me, having in his hand a burning coal that he had taken with tongs from the altar.

7

And he touched my mouth and said: "Behold, this has touched your lips; your guilt is taken away, and your sin atoned for."
In verse 8, we have the commissioning of Isaiah as God asks who will go for Him and Isaiah responds with the now famous "Here am I, send me."
And I heard the voice of the Lord saying, "Whom shall I send, and who will go for

c

us?" Then I said, "Here am I! Send me."
The part that sometimes get overlooked in this chapter is the conversation between God and Isaiah that follows in verses 9-13.
And he said, "Go, and say to this people:
" 'Keep on hearing, but do not understand;
keep on seeing, but do not perceive.'
10

Make the heart of this people dull,
and their ears heavy,
and blind their eyes;
lest they see with their eyes,
and hear with their ears,
and understand with their hearts,
and turn and be healed."
11

Then I said, "How long, O Lord?"
And he said:
"Until cities lie waste
without inhabitant,
and houses without people,
and the land is a desolate waste,
12

and the

Lord

removes people far away,
and the forsaken places are many in the midst of the land.
13

And though a tenth remain in it,
it will be burned again,
like a terebinth or an oak,
whose stump remains
when it is felled."
The holy seed is its stump.
Did you catch that?
God tells Isaiah that He wants him to go and make the hearts of the people dull so that lest they "turn and be healed". Basically, God wants Isaiah to prophesy to Israel so that when He judges them for their sin, they can't say, "What? No one told us that you were going to do this? This isn't fair that you are judging us for our sin." Isaiahs job, basically, seems to be to remove the excuse for Israel when God comes to judge them.
Isaiah then asks God in verse 11 how long he has to do this. God's response? Until the land is desolate and the people are removed from it by God. For all the years of Isaiah's faithful service to God, the result was that the people he was sent to prophesy to refused to listen. He was obedient to the call of God and yet his people were judged for their sin and sent into exile.
I want God to use me to change my city.
But what if His call on me is to preach the gospel so that no one in Rome has excuse when judgment comes?
I want to see my church lead a revival that sets Rome, Georgia on fire for a glorious God.
But what if His call on me is preach and teach and experience little or no revival after years of faithful service.
I want to be Paul and see lives changed and churches planted and the gospel prosper.
But what if God wants me to be Isaiah?
Will I be OK with that? Is God really enough for me even in the face of years of seemingly futile ministry?
What if I am Isaiah?